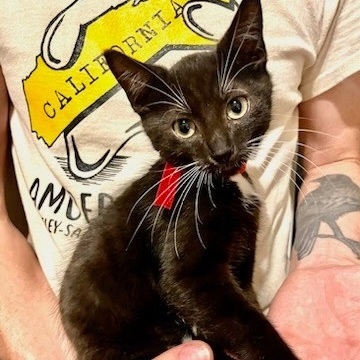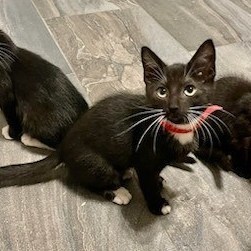 Adopted - Not Available
Name
Opera
Type
Cat
Breed
Tuxedo
Gender
Male
Age
Baby
Color
Size
Medium
Status
adopted
Attributes
Spayed Neutered House Trained Declawed Special Needs Shots Current &nbsp
Environment
Children Dogs Cats &nbsp
Introducing Opera, the charming tuxedo kitten with a heart full of love! This sweet little boy may take his time to warm up to you, but once he does, he becomes a devoted friend for life.

Opera delights in the simple joys of life, and one of his favorite pastimes is flipping and flopping under your lap, seeking all the cozy comfort he can find. He adores belly rubs and chin scratches, reveling in the affectionate gestures from his human companions. Whether it's gentle caresses or playful chin rubs, Opera's purrs will fill the room with warmth and contentment.

When it comes to playtime, Opera is always ready for some fun. He loves frolicking with his siblings, engaging in joyful antics that will bring a smile to your face. Any kind of toy becomes an opportunity for excitement and amusement in Opera's paws.

What truly sets Opera apart is his gentle nature and lack of competitiveness. He's not one to vie for food or attention, always maintaining a peaceful demeanor. This loving kitten gets along wonderfully with cats, dogs, and children, making him a versatile addition to any loving family.

If you're seeking a tender and affectionate companion who will bring endless joy to your home, look no further than Opera. Embrace his gentle nature, and he'll grace your life with his unwavering loyalty and delightful presence. Open your heart to Opera, and let the symphony of love begin!