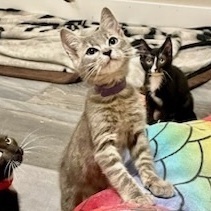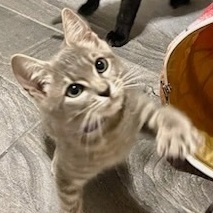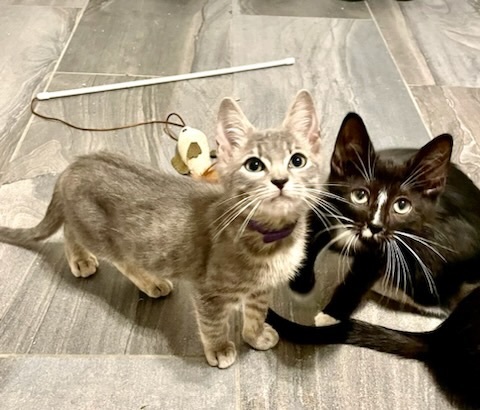 Adopted - Not Available
Name
Holmes
Type
Cat
Breed
Tabby
Gender
Male
Age
Baby
Color
Size
Medium
Status
adopted
Attributes
Spayed Neutered House Trained Declawed Special Needs Shots Current &nbsp
Environment
Children Dogs Cats &nbsp
Introducing Holmes, the mischievous gray tabby kitten with a spirited personality! While he may occasionally display a bit of a mischievous side, Holmes is undeniably charming and full of surprises.

This little rascal is not shy about expressing his opinions and will protest with all his might when something doesn't align with his desires. Right now, his mind is primarily occupied with two things: food and playing with his beloved siblings. Interrupting his playtime might result in some adorable cries and protests, as Holmes is determined to make his intentions known.

When he's not making his voice heard, Holmes enjoys engaging in playful antics with toys and laser pointers. He thrives on interactive play and will eagerly chase after anything that captures his attention. However, he also values his independence and appreciates moments of relaxation and camaraderie with his siblings. Holmes is a social butterfly who finds comfort and joy in the company of his feline companions.

Not only does Holmes get along well with his fellow felines, but he is also friendly with dogs and children. His adaptable nature makes him an excellent fit for a variety of households, where he can bring laughter and liveliness to every corner.

If you're ready for a spirited and entertaining addition to your family, Holmes is the perfect choice. Embrace his mischievous charm and join him on his playful adventures. With Holmes by your side, every day will be filled with laughter, surprises, and an abundance of feline love.